My children are all in their late teens and early 20's now. When I talk with them I always find it interesting to hear their perspective on growing up with me as their mom. Sometime I cringe when they recall things and sometimes I smile and think, "Yep, that's something we did right."
One of those things that we did right was read to our children. Yes, we read to them when the were little and wanted to sit on our laps. We read with them when they were learning to read on their own....but, we continued to read to them even as they grew into upper elementary students.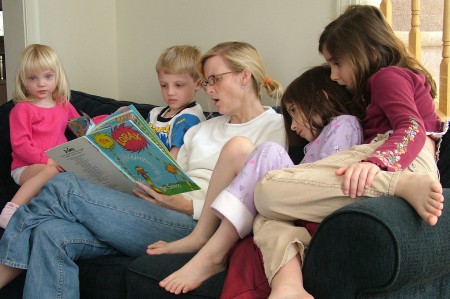 Even after that, I still read with them. I would read some of the books that they were reading...only we each read our books separately. I would ask them what they thought of this or that chapter. I would purchase sequels. I did everything I could to encourage reading.
Once I started providing in home childcare, I kept the tradition going with the children in my care....and not just with the little kids. All summer long I read books to the school aged children too. It was a great bonding time and even then, I caught my own children who were by then teenagers, caught up in the stories.
As summer is approaching, I thought today I would share with a list of some of my favorites to read to school aged children.
The American Girl books:
I found that boys like these pretty well too. I would recommend any of these collections. All include topics that boys appreciate more or the character have brothers that play into the stories.
Molly Boxed Set with Game (American Girl) (American Girl Collection)
Kirsten Boxed Set with Game (American Girl)
Kit Boxed Set with Game (American Girl)
Felicity Boxed Set with Game (American Girl)
A great boy series of five books is from Gary Paulson
Tucket's Travels: Francis Tucket's Adventures in the West, 1847-1849 (Books 1-5) (The Francis Tucket Books)
This is the story of a boy who is traveling west on the Oregon Trail with his family. He is given a gun for his birthday. He strays from the wagon train and gets captured by Indians. He eventually meets up with a one armed mountain man and two abandoned children. The stories are wonderful and each chapter ending has the children crying for you to keep reading.
Junie B. Jones is an absolute hoot! I loved these books, even as an adult. I read these with my youngest daughter and then read them again to the childcare kids. The boys even liked these. There are about 15 books in the series.
Junie B. Jones's First Boxed Set Ever! (Books 1-4)
Junie B. Jones's Second Boxed Set Ever! (Books 5-8)
Of course there is the classic The Boxcar Children. I have read the first Boxcar Children book at least 5 times in my life...There is a series of 12.
The Boxcar Children Books 1-4
For middle to upper elementary kids, we loved the Hatchet series by Gary Paulsen.
The series starts with the book, The Hatchet. 13 year old, Brian is flying in a small airplane across the Canadian wilderness to visit his father when the plane crashes leaving Brian alone, the sole survivor in a desolate harsh area.
Hatchet: 20th Anniversary Edition
Brian's Winter
Brian's Hunt
Brian's Return
We love the Marissa Moss books...some of our favorites were:
Rose's Journal: The Story of a Girl in the Great Depression
Rachel's Journal: The Story of a Pioneer Girl
Hannah's Journal: The Story of an Immigrant Girl
Emma's Journal: The Story of a Colonial Girl
Some other books that we stumbled upon and loved include:
Jake's Orphan
The Best Bad Luck I Ever Had
Letters from Rifka
Daniel's Story
The Black Stallion
Soldier's Heart : Being the Story of the Enlistment and Due Service of the Boy Charley Goddard in the First Minnesota Volunteers
Time Enough for Drums
and all the other Anne Rinnaldi books
Thunder at Gettysburg
(You can click on any of the titles to learn more about the books)
There are many more great books out there to read to children. Here we lean towards historical books. There are great fantasy and sports books out there too.
Regardless of which book you pick, you are truly making lasting memories by reading with your children.
Today I hooked up with
We Are That Family
and
The Mommy Club
.